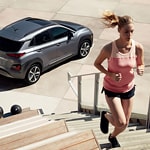 The Hyundai Kona has some unique design features that you really must see in order to truly appreciate them. The makers of this popular small SUV have obviously set out to create a different type of SUV that is visually appealing. It is also quite functional and a lot of fun to drive.
The arrangement of the lights on the front of the vehicle are noticeable from the beginning. These are high-efficiency LED headlights that will really give off a wide range of illumination when you are driving. Included are also standard LED daytime running lights as a safety component.
The front is not all you will notice, as the rear lights have been redesigned as well. The brake lights take on a much slimmer look. These are going to really stand out from others on the road when you are stopped. Take a look at these features and many others when you test drive the Kona at Phillips Chevrolet Hyundai of Bradley.